About Us
Londonist DMC is a multi-award-winning student accommodation agency with offices in London, Turkey, and China. Since 2013, we have been dedicated to offering clients a wide range of short and long-term accommodation options, from 2 to 51 weeks. We pride ourselves on delivering a five-star service by making students feel at home away from home. This accomplishment is made possible through our passionate team, cutting-edge technology, and purposeful partnerships. We currently have a remarkable portfolio of over 2000 rooms across 50 prime locations in London, encompassing Zones 1, 2, and 3. From King's Cross to Spitalfields, Lewisham to Portobello, and Highbury to Islington, our collection of student residences caters to diverse preferences and needs.
The Londonist residences provide an array of exceptional facilities within their premises, ensuring a comfortable and enriching experience for our residents. With fully-equipped gyms, refreshing cinemas, convenient computer labs, and inviting social and study spaces, we offer amenities that satisfy the various aspects of student life. Moreover, to simplify living arrangements, all bills are inclusive, and residents can enjoy the peace of mind that comes with having a dedicated 24/7 security and maintenance team on site. Additionally, we go the extra mile to support our students by offering supplementary services such as airport transfers, insurance coverage, kitchen equipment, bathroom essentials, and more to ensure their stay is hassle-free and enjoyable.
Our Mission
We believe the best home away from home experience can be created with the help of an inspired team, innovative technology and intentional partnerships.
Our Vision
We aspire to be a game-changer in the student accommodation industry by making each student feel at home away from home.

We are on the News
Londonist is capturing everyone's attention! We are proud to announce that we have been honored with the prestigious Best of British Business Award by the Independent. Our remarkable achievement has also been acknowledged by the Evening Standard, a widely read daily newspaper with over 690,000 readers, distributed across all London supermarkets and train stations.
At Londonist, our unwavering dedication to creating a welcoming environment for every student is evident, and this latest recognition from a reputable publication further emphasizes our commitment. We strive to make each student feel like they are at home away from home.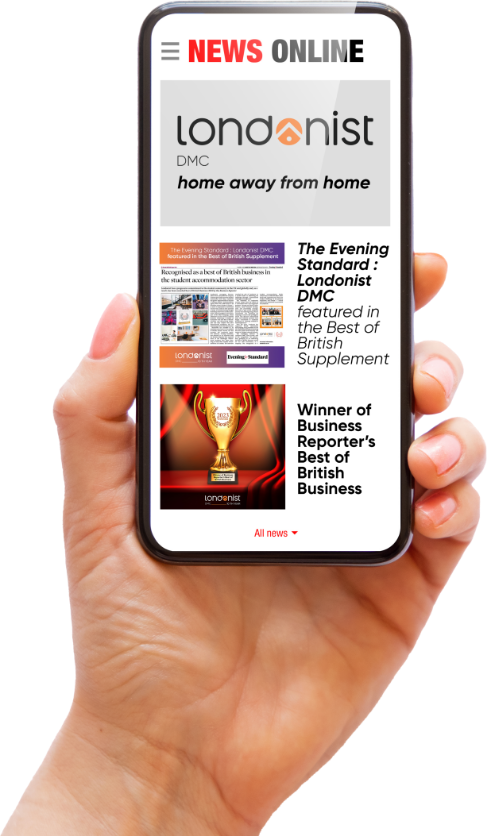 Achievements
Londonist DMC, founded in 2013, has made significant strides in revolutionizing the PBSA sector by offering exceptional student accommodation. Over the years, we have achieved numerous accomplishments, including becoming members of renowned associations, winning prestigious awards, expanding their global reach, and establishing a new office in Istanbul and Shanghai.
Our commitment to excellence and customer satisfaction has been consistently recognized through accolades such as the ST Star Awards and the PIE Award. With a growing room capacity and industry commendation, Londonist DMC continues to thrive and was recently honored with the Best of British Business award by the Independent. We remain dedicated to delivering exceptional experiences and shaping the future of student accommodation.
2013
Londonist DMC launched in 2013 with 30 rooms in London.
2014
We expanded our reach to other cities like Oxford, Cambridge, Liverpool, Brighton and Manchester.
2015
Became members of BETA and BELTA.
2016
Joined EnglishUK, the largest national association of accredited English language centers.
2017
Opened a brand new office in Istanbul and upscaled the brand to 12 more locations.
2018
Nominated in the best marketing award category by BETA
2019
Awarded by People's Choice Award 2019 from British Youth Travel
2019
Expanded our reach globally and launched our brand-new office in Shanghai.
2019
Joined Cossa and Bossa associations.
2019
Expanded to Dublin
2019
Sponsored Le Cordon Julia Child sponsorship
2020
Joined UKInbound and ALTO associations since 2020.
2021
We opened Londonist Investments
2021
Won ST Star awards for 'The Star Service Provider of The Year'
2022
Won the PIE Awards for the category International Student Living
2022
Won the ST Star Awards consecutively third time the 'Star Service Provider' of the year.
2022
Room capacity increased to over 2000.
2022
Recognised as highly commended by the RESI Awards.
2023
Shortlisted as the 'Health and Wellbeing Initiative' by the RESI Awards
2023
Shortlisted as the and 'Sales and Letting Agency' by the RESI Awards
2023
Shortlisted as the 'Best Service Provider' by the ST Star Awards.
2023
Won the Best of British Business Award by the Independent.
2023
Dinara Suleimanova recognized as the 'Professional of the year' by Inside Housing
2023
Dinara Suleimanova recognized as the 'Women of the future' by Inside Housing
Our Values
We believe the best home away from home experience can be created with the help of an inspired team, innovative technology and intentional partnerships.
Honesty
We believe words fail when they lack the required action and consistency. What we say to our team, customers, and partners matter. We want our words to count, and actions felt. Honesty thrives when we are authentic to you. We are creating an open and sincere culture where humanity can flourish.
Flexibility
As humans, we are the product of our unique life experiences. Our needs are sometimes different, and that's okay. The beauty of the environment we are creating acknowledges your fears and aspirations and supports you along the way. We are developing an understanding culture that easily adjusts to your need and makes you feel at home.
Speed
Time is important to us, and we do not want to keep you waiting. From your innovative ideas to your requests, treating these with a sense of urgency shows you matter to us. We believe acting in a timely manner creates a meaningful work environment and a seamless student accommodation experience.